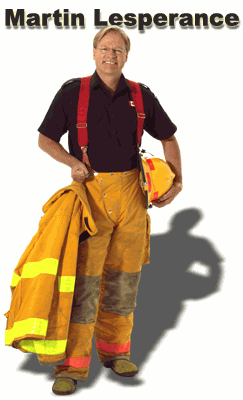 Safety Videos
shouldn't cost an arm and a leg!
What do you get when you cross a seasoned paramedic and a firefighter with the captivating delivery of a serious message? One heck of a series on safety. Martin is one of the best safety speakers around! His videos are specifically designed to fit in to your safety meetings.

Previously, every time Martin delivered his safety messages to conventions and conferences, the audience would ask, "Are your safety talks on video? I want my employees to hear your message." Now, the answer is "Yes!"


Martin does more than talk about safety. He turns thinking about safety into action. His powerful stories stick in the minds of his audiences: "You really drive the safety message home," echo many of his presentation participants. "As you were telling the story, I could see myself doing exactly that. Boy, I'll think twice next time."

Safety videos are an important vehicle in passing along your safety message. Martin's videos on safety not only promote work place safety; they also promote off-the-job safety too. Martin also offers a safety video for high schools and young employees.

In short, there's a video to fit every safety meeting agenda. Videos range from 9 to 21 minutes.

Because these videos go beyond the work place, your employees will want to take them home to help safeguard their families. When was the last time your employees wanted to take home a safety video? They'll ask for these.

Whether you're looking for an entire series of safety videos or just a single safety video for your organization, you won't be disappointed. Guaranteed!


And remember: it doesn't cost an arm and a leg!
---

If you're looking for a speaker for your safety conference,
check out Martin's safety site at:
Safete.com